by Ken Abramczyk • OBSERVER STAFF WRITER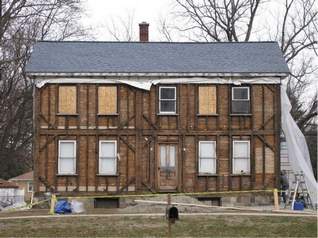 The Greek Revival farmhouse owned by Jimmy Lowe has a long history.
Lowe bought the house in 1988. He's the fifth known owner since it was built in 1840.
Lowe spoke with officials at Greenmead Historical Park in Livonia and the Livonia Historical Society. Here is a rough timeline offered to Lowe by Connie Wagenschutz, a member of the Livonia Historical Society.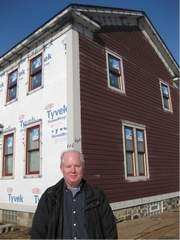 The 1870 U.S. Census lists Garrett Becker and wife Sarah, both born in New York, with seven children born in Michigan. Lowe believes Becker built the house.
Various property maps and Internet sources indicate in 1893 and in 1904 – there are gaps in the dates because it is unclear when the property transfer took place – Civil War veteran Charles Teagan and wife Sarah lived there and they had six children. "There is artwork in a door upstairs that is signed C. Teagan, but I'm not sure if it was the veteran or one of his children," Lowe said.
Teagan was listed in a book by Silas Farmer, published in 1890, titled History of Detroit and Wayne County and Early Michigan.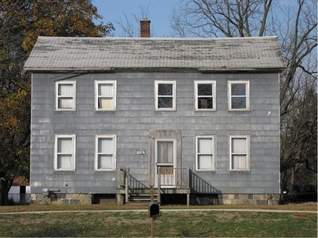 Silas wrote: "Charles Teagan was born in Cork County, Ireland, July 11, 1844, and came to America in 1862. He enlisted Dec. 23, 1863, in Co. G. 8th Michigan Cavalry, was captured Aug. 4, 1864, and held prisoner at Andersonville and Florence, when he made his escape. He was discharged May 12, 1865, returned to Detroit and entered the employ of the Michigan Car Co., where he remained 14 years.
"He married Sarah Eady of Detroit, Jan. 30, 1866. They have six children, are members of the Episcopal Church, and have a farm of 120 acres."
Lowe said the property his house is on was originally an 80-acre farm. "The maps show a 40-acre parcel diagonally across Seven Mile Road, also owned by the Teagans," Lowe said.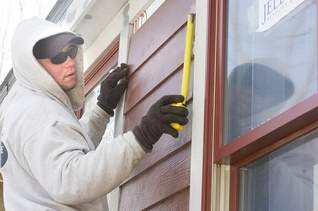 The next occupants of the home were Frederick Garchow and wife Augusta, 11 children, listed in property records in 1915, 1920 and 1936. Hilda Garchow, now Hilda Nacker, still lives in Livonia. "She was born in the house in 1916, and was also married in the house," Lowe said.
Nacker was brought to the house a few months ago, just as Lowe was starting the remodeling project. She told him the farm was used to grow corn and vegetables. A small brick structure that resembles an outhouse was a smokehouse where her family smoked beef and pork. A cast-iron stove that remains on the property was once used by Hilda when she was younger, Lowe said.
Lowe believes the Garchows owned the house until the 1960s. Frederick Garchow died in 1966.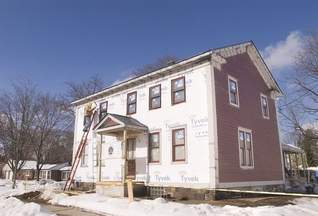 The house was owned by Carl Westberg in the 1960s, and later by his son, Michael Westberg, who sold the house to Lowe. The younger Westberg told Lowe the house was built in 1840.
Lowe is looking for more information on his house. The house is at 30702 Seven Mile Road between Middlebelt and Merriman roads. Anyone who has more information can contact Lowe through e-mail at Livonia7MileHouse@yahoo.com, by phone at (248) 346-0492 or by regular mail: 30702 Seven Mile, Livonia, MI 48152.
kabramcz@hometownlife.com | (313) 222-2591
Civil War Veteran Once Lived Here