Source: James Hardie International, November/December 2009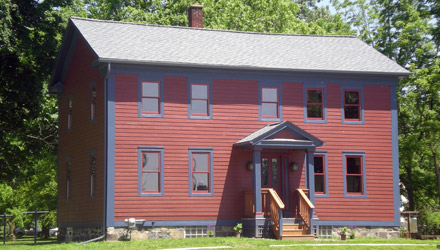 The home was "not in good shape" when Brian Halprin of Bloomfield, Michigan-based Green Building Services pllc (GBS) came to discuss the renovation with its current owner, James Lowe. Over the generations, the farmhouse had been home to five different owners—including one who fought in the Civil War—but it was close to losing its own battle against time and the elements.
The first task facing Halprin, a licensed and LEED-accredited architect and builder, along with his business partner Brad Lavey (a certified HERS rater) was to remove the home's old asbestos siding through careful remediation. The pair summoned a special disposal team who "came in their suits and put a big bubble around the house," Halprin recalls. The original wood siding underneath was also pulled off. "We stripped the whole house off from the outside."
GBS added a foam seal and cellulose fill to make the house airtight. Halprin then installed an OSB sheathing with vapor barrier and low-E windows to ensure greater energy efficiency.
ColorPlus Aesthetics—and Value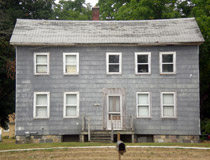 After doing research on historical home colors from the era, Halprin and Lavey selected James Hardie siding with Colorplus® technology in factory-painted "Countrylane Red." The color is "very similar to houses that were done in that timeframe," he reports. The prepainted siding also eliminated the hassle and waste generated when painting the exterior on site.
The HardiePlank® product with ColorPlus® Technology offers exceptional longevity and value for the homeowner, by providing 30 percent better fade resistance, which means fewer paint jobs down the road. It's backed by a 15-year finish warranty and up to a 50-year limited transferrable product warranty. (Longer product life translates into less material going into landfills.)
Another reason Halprin selected the HardiePlank is because it is available in a five-inch reveal. "Those narrower reveals are more historically accurate," he says, resulting in a more authentic restoration.
GBS has been using HardiePlank lap siding exclusively for about six years, according to Halprin. The company once used a competing product "that had some moisture problems," so the homebuilders made the switch and never looked back. He appreciates that Hardie is non-permeable and holds color well. "We're big fans of HardiePlank," he says.
Old and New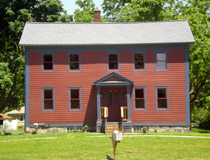 The renovation went so well that the owner hired GBS to build a new historic-style barn next to the nearly two-century old farmhouse. Halprin has designed the new structure so that "it will look like it's been there for a long time," with architectural touches like a gambrel roof (the rounded style found on most barns), lookout and wood door. HardiePlank's ColorPlus lap siding in "Countrylane Red" will also go on the exterior, creating a seamless match between the old and new structures.
Halprin says the bright red color of the completed farmhouse "creates a lot of excitement" along the busy road. Many people have driven up to voice their approval and appreciation of the project. Some have even shared stories about the house from fifty or sixty years ago, which is "pretty cool," he says.
Their craftsmanship is also generating new business opportunities. GBS is now looking to renovate another home—on the very same road—that is almost one hundred years older than the big red farmhouse. HardiePlank, says the builder, would play a key role in that restoration too.
For more information on Green Building Services, visit: http://www.greenbuildingofmichigan.com
Green Renovation: 1840 Farmhouse Gets Energy-Efficient, Green Makeover